Effective Strategies and Prevention Tips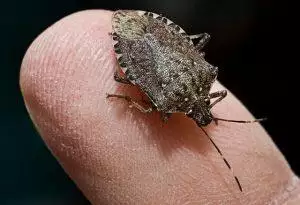 Stink bugs can be a real nuisance. Not only do they invade homes, but they also come with an unpleasant odor when squashed. If you're dealing with a stink bug infestation, don't despair. Here's a comprehensive guide on how to get rid of stink bugs and keep them away.
What Are Stink Bugs?
Stink bugs are small, brown insects with a shield-shaped body. They're named for the foul smell they release when threatened or crushed. These bugs are not harmful to humans but can damage plants and become a significant nuisance in homes.
How to Get Rid of Stink Bugs
Vacuum Cleaner
One of the simplest ways to deal with a minor infestation is by using a vacuum cleaner. Use a vacuum to suck up the bugs and dispose of the bag or contents far away from your home.
Soapy Water
Fill a spray bottle with water and add a few drops of dish soap. Spray this mixture directly onto the bugs. It will kill them almost instantly.
Chemical Insecticides
In more severe cases, you may need to resort to chemical sprays designed specifically for stink bugs. Always read and follow the instructions carefully, and take all necessary safety measures.
Sealing Gaps
Inspect your home for any cracks or gaps in doors and windows where these bugs may enter. Use caulk or other sealants to close these off.
Prevention Methods
Seal Entrances
A long-term solution is to make sure there are no entry points for these bugs. Seal all potential entryways with caulk or weatherstripping.
Regular Cleaning
Keeping your home clean is a deterrent for any kind of bug, including stink bugs. Regularly vacuum and wipe down surfaces.
Use Screens
Consider installing screens over windows, vents, and other openings.
Natural Deterrents
Garlic and mint have been found to repel these bugs. Plant these around your home as a natural defense mechanism.
Monitor Plants
Be aware that stink bugs are attracted to certain plants. Remove these from near your home if possible.
Final Thoughts
Stink bugs can be a real bother, but they don't have to take over your home. With the right strategies, you can get rid of these pests and keep them away for good. Always consult with a professional if you're dealing with a severe infestation, as they can provide targeted treatment options.
By taking a proactive approach, you can enjoy a stink bug-free environment. So go ahead and reclaim your space today!
Our Pest Control Service Areas
Afton, Albemarle County, Alexandria, Amelia County, Annandale, Arlington, Ashburn, Ashland, Barboursville, Beaumont, Bellwood, Belmont, Bensley, Bermuda Hundred, Bon Air, Boyd Tavern, Brandermill, Bumpass, Burke, Central VA, Centreville, Chamberlain, Charlottesville, Chesapeake, Chester, Chesterfield County, Colonial Heights, Columbia, Crozet, Crozier, Cuckoo, CVille, Dabneys, Dale City, Doswell, Dumbarton, Earlysville, East Highland Park, Enon, Ettrick, Fairfax, Fair Oaks, Ferncliff, Fife, Fluvanna County, Fredericksburg, Genito, Glen Allen, Glenora, Goochland County, Gordonsville, Gum Spring, Hadensville, Hampton, Hampton Park, Hanover County, Harrisonburg, Harrogate, Hening, Henrico County, Highland Springs, Hopewell, Innsbrook, Jefferson Davis, Kents Store, Keswick, Lake Anna, Lake Monticello, Lake Ridge, Lakeside, Laurel, Leesburg, Lewiston, Lignum, Locust Grove, Louisa County, Maidens, Manakin, Manakin-Sabot, Manassas, Manchester, McLean, Montrose, Motoaca, Meadowbrook, Mechanicsville, Midlothian, Mineral, Moseley, Newport News, Norfolk, North Courthouse, North Garden, Northern Virginia, NoVA, Oilville, Orange County, Palmyra, Pantops, Petersburg, Portsmouth, Powhatan County, Reams, Reston, Richmond, Richmond County, Robious, Rockville, Rockwood, RVA, Salisbury, Sandston, Sandy Hook, Scottsville, Shannon Hill, Short Pump, South Rockwood, Spring Run, Staunton, Stoney Point, Suffolk, Tidewater, Troy, Tuckahoe, Va, Varina, Virginia, Virginia Beach, Waynesboro, Williamsburg, Winchester, Winterpock, Woodlake, Wyndham, and the surrounding areas of Virginia.
Would you like expert assistance with your stink bug problems? Contact Virginia Professional Wildlife Removal Services at 804-457-2883 for professional pest control in Richmond, or its surrounding areas. We cover almost all of Virginia including Henrico, Richmond, Glen Allen, Midlothian, Charlottesville, and Mechanicsville. We also provide commercial wildlife control.