SNAKE REMOVAL
Virginia Professional Wildlife Removal Services, LLC.
A full-service animal wildlife trapping, removal and pest control company – Licensed and Insured!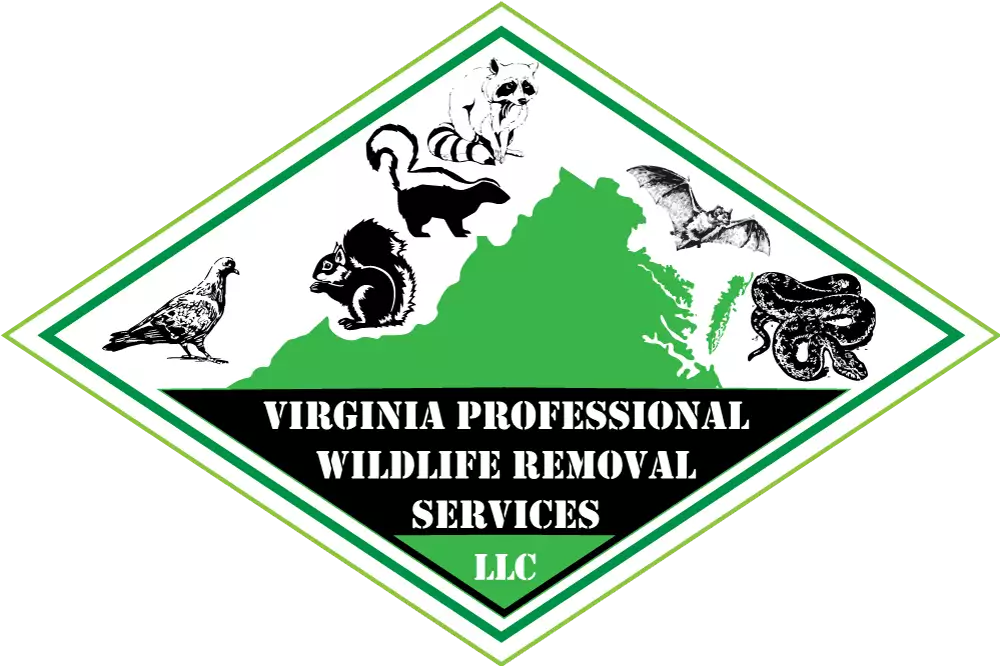 Virginia Professional Wildlife Removal Services, LLC., is Licensed & Insured. We Provide Both Residential & Commercial Snake Removal & Control Services.
Snake Removal
At Virginia Professional Wildlife Removal Services, we are committed to providing safe, effective, and humane solutions for snake removal. We understand that snakes can cause fear and unease in residential and commercial spaces, which is why our team of trained and experienced wildlife technicians utilizes the latest snake control methods to ensure a snake-free environment. Our services include comprehensive property inspections, identification of snake species, implementation of removal and exclusion strategies, and post-removal cleanup. We also provide you with preventive advice and solutions to keep snakes from returning. Whether you're dealing with a single, unwelcome visitor or a recurring snake issue, you can trust us to handle the situation promptly and professionally. Remember, for your safety, never attempt to handle or remove a snake on your own. Contact us instead, and let the professionals take care of your snake problem.
Snakes scare most people.  That's why most calls we get are to remove a snake from a house. They require the skills of our local snake experts who understand the behavior of snakes found in Virginia and know how to properly identify the venomous from nonvenomous species found in the Henrico, Richmond and Charlottesville areas.
Snake removal from a house can be a real emergency for a homeowner who doesn't know if they're dealing with a poisonous copperhead  or a non-poisonous black snake. Most of the snakes in our area are harmless and provide a valuable service around your home in the way of rodent control. In fact, the presence of snakes in your yard, house and particularly the crawl space may indicate a rodent problem requiring professional mouse control services.
There are only three species of venomous snakes in Virginia. The copperhead (found statewide) is the most common and least venomous. It is usually not found inside homes, but is common in yards, gardens and woodpiles. Timber rattlesnakes are common only in the mountainous regions of western Virginia and a small area of extreme southeastern Virginia where they are known as canebrake rattlesnakes. Water moccasins, also known as cottonmouths, are found to the south and east of Petersburg and are common only in wet areas.
Snake Areas
Our snake exterminators provide snake control, trapping, removal and exclusion of snakes in the following counties, cities and town in Virginia:  Afton, Albemarle County, Alexandria, Amelia County, Annandale, Arlington, Ashburn, Ashland, Barboursville, Bellwood, Belmont, Bensley, Bermuda Hundred, Bon Air, Boyd Tavern, Brandermill, Bumpass, Burke, Central VA, Centreville, Chamberlain, Charlottesville, Chesapeake, Chester, Chesterfield County, Colonial Heights, Crozet, Cuckoo, CVille, Dale City, Doswell, Dumbarton, Earlysville, East Highland Park, Enon, Ettrick, Fairfax, Fair Oaks, Ferncliff, Fluvanna County, Fredericksburg, Genito, Glen Allen, Glenora, Goochland County, Gordon, Gordonsville, Gum Spring, Hadensville, Hampton, Hampton Park, Hanover County, Harrisonburg, Harrogate, Hening, Henrico County, Highland Springs, Hopewell, Innsbrook, Jefferson Davis, Kents Store, Keswick, Lake Anna, Lake Monticello, Lake Ridge, Lakeside, Laurel, Leesburg, Lewiston, Lignum, Locust Grove, Louisa County, Maidens, Manakin, Manakin-Sabot, Manassas, Manchester, McLean, Montrose, Motoaca, Meadowbrook, Mechanicsville, Midlothian, Mineral, Moseley, Newport News, Norfolk, North Courthouse, North Garden, Oilville, Orange County, Palmyra, Pantops, Petersburg, Portsmouth, Powhatan County, Reams, Reston, Richmond, Richmond County, Robious, Rockville, Rockwood, RVA, Salisbury, Sandston, Sandy Hook, Scottsville, Shannon Hill, Short Pump, South Rockwood, Spring Run, Staunton, Stoney Point, Suffolk, Tidewater, Troy, Tuckahoe, Va, Varina, Virginia, Virginia Beach, Waynesboro, Winchester, Winterpock, Woodlake, Wyndham, and the surrounding areas of Virginia.
Snake Identification
Of the many kinds of snakes found in Virginia, only the following are harmful: rattlesnakes, copperheads, and cottonmouths. All poisonous snakes in Virginia belong in a group called pit vipers.
There are three ways to distinguish between pit vipers and nonpoisonous snakes in our area:
(1) All pit vipers have a deep pit on each side of the head, midway between the eye and the nostril. Nonpoisonous snakes do not have these pits.
(2) On the underside of the tail of pit vipers, scales go all the way across in one row (except on the very tip of the tail, which may have two rows in some cases). On the underside of the tail of all nonpoisonous snakes, scales are in two rows all the way from the vent of the snake to the tip of the tail. The shed skin of a snake shows the same characteristics.
(3) The pupil of pit vipers is vertically elliptical (egg-shaped). In very bright light, the pupil may be almost a vertical line, due to extreme contraction to shut out light. The pupil of nonpoisonous snakes in our area is perfectly round.
Did you know that the Eastern Rat Snake, the most common snake in Virginia, will often times flatten its head making it appear triangular shaped so that it resembles a venomous snake? They will also "rattle" their tail in dry leaves so people will think they have come across a rattlesnake. The ratsnake which most people call a black snake doesn't make snake identification easy for non snake experts. When young, these snakes have a color and pattern that can easily be mistaken as an Eastern Copperhead Snake.
Is It A Copperhead Snake?
It seems that the Copperhead snake is the most feared snake in the Henrico, Glen Allen, Richmond, Midlothian and Charlottesville areas of Virginia. But honestly, out of every 100 snake calls that come into our office as a copperhead, 99% of them end up being a juvenile Eastern Rat Snake that is unfortunately killed because it was misidentified.
Rat snakes, which people commonly refer to as a black snake, look very different as juveniles than they do when fully grown. They often have different color variations and have patterns that cause them to be misidentified by the untrained eye.
If in doubt about a particular snake species, always assume that it is a venomous (poisonous) snake and keep a safe distance. You can also take a picture of the snake with your phone's camera and email the picture to us at vpwrs@hughes.net for a quick snake identification free of charge.
Facts About The Eastern Rat Snake – Black Snake
Length – They can grow up to 80 inches in length.
Description – As adults, they are a large black snake with a white chin. The belly is black and white checkered with black smudges turning all gray towards the tail. The young are gray with black to brown blotches on the body.
Habitat – They are found throughout Virginia in forest, fields, agricultural areas, and even in the attics and crawlspaces of homes.
Habits – They are excellent climbers. I have observed them in trees and climbing up the sides of homes.
Diet – They feed on rodents, birds, eggs and even insects when young.
Breeding – Females can lay 5 to 19 eggs. That's a lot of baby snakes.
At Virginia Professional Wildlife Removal Services we are constantly striving to advance our education so that we may serve you better.
Snake Bites
A nonpoisonous (the proper term is nonvenomous) snake bite has no venom and can do no more harm than frighten the victim. After being bitten several thousand times by nonpoisonous snakes, the author and his students have never suffered any adverse reaction, and no treatment was ever used.
The only harm nonpoisonous snakes can cause is frightening people who are not familiar with them. A bite from a poisonous (the proper term is venomous)  snake, however, causes an almost immediate reaction—swelling, tissue turning a dark blue-black, a tingling sensation, and nausea. If none of these is observed or felt, the bite was from a nonpoisonous snake.
Also, bites from one of the pit vipers (copperheads, rattlesnakes, and cottonmouths) will reveal two fang marks, in addition to teeth marks. All snakes have teeth; only pit vipers have fangs. North American pit vipers have only two rows of teeth on top and two on the bottom, whereas nonpoisonous snakes have four on top and four on the bottom. (Source: Prevention and Control of Wildlife Damage — 1994)
Snake Traps
Snake traps are an effective method of controlling unwanted serpentine visitors, especially in areas prone to encounters with venomous species. These contraptions are typically non-lethal and are designed to capture snakes without causing them harm, thus promoting a more humane approach to snake management. They come in various types, including glue-based, box, and funnel traps, each one having its own merits and ideal use case scenarios. When used properly, snake traps can provide a safe, reliable, and responsible solution to snake problems, allowing for the safe removal and relocation of these misunderstood creatures. It's important to note, though, that in many locations, certain snakes are protected by law, and trapping them may require a permit or professional assistance. Snake traps are an effective way to catch a snake.
Snake Repellents
Most snake repellents contain either naphthalene, paradichlorobenzene or sulfur. None of these ingredients have really been proven effective in repelling snakes. The best snake repellent is achieved through habitat modification. Ask our local snake experts how we can help you obtain this on your own property. Note: Mothballs ARE NOT effective as a repellent for any wild animal.
Virginia Herpetological Society
The Virginia Herpetological Society (VHS) is a renowned organization that promotes the study, conservation, and appreciation of reptiles and amphibians, collectively known as herpetofauna. The society brings together herpetologists, wildlife enthusiasts, and concerned citizens who share a mutual interest in the wildlife of Virginia. VHS is known for its diverse range of programs and initiatives, such as conducting field surveys, providing educational resources, hosting symposiums, and publishing regular newsletters and scholarly articles. Through these endeavors, the society cultivates a deeper understanding of these fascinating creatures, their ecology, and their vital role in Virginia's ecosystems.
VPWRS Can Solve Your Snake Problems!
Got Snakes? Need Snake Control Or Removal Services?
Snakes in the Crawlspace?
Snakes in the Attic?
Need a Snake Exterminator?
Have You Seen a Snake in the Yard?
Is There A Snake Nest on Your Property?
Is It A Poisonous Snake?
Have Questions About Snake Repellants And Their Effectiveness?
Are Mice and Rats Attracting Snakes to Your Property?
Need Someone to Remove a Snake From Your House?
Need a Local Snake Control Expert to Snake Proof Your Home?
Need to Know the Best Ways to Get Rid of Snakes?
Are Copperhead Snakes Dangerous?
VPWRS Extensive Services
Virginia Professional Wildlife Removal Services provides nuisance wildlife removal, animal control, predator control, pest control, nuisance wildlife exclusion, dead animal removal, and wildlife clean-up services.
We have experience removing bats, beavers, birds, Canada geese, chipmunks, deer, foxes, groundhogs, mice, moles, raccoons, rats, opossums, skunks, squirrels, snakes, voles, muskrats, Copperhead snakes, pigeons, and other species of Virginia wildlife.
We operate our business within accepted industry standards and best practices, and in accordance with local, state, and federal laws.
CONTACT INFO ABOUT OUR BLOG
DIRECT MESSAGE US ABOUT OUR BLOG