Virginia Professional Wildlife Removal Services, LLC.
A full-service animal wildlife trapping, removal and pest control company - Licensed and Insured!
Dead Animal Removal In Virginia page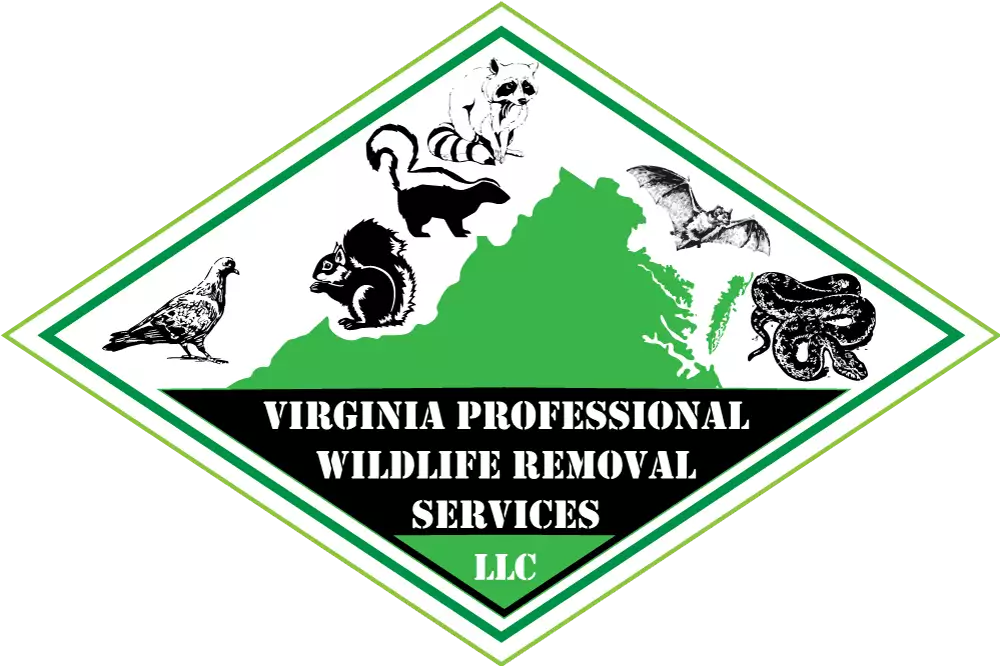 Welcome to Virginia Professional Wildlife Removal Services, LLC., Dead Animal Removal In Central Virginia Page
Virginia Professional Wildlife Removal Services, LLC., is Licensed and Insured, and provides both residential and commercial services For Dead Animal Removal & Dead Animal Smells.
Virginia Professional Wildlife Removal Services provides dead animal removal and odor control to individuals, businesses, and municipalities throughout Central and Eastern Virginia. Some of our service areas in Virginia include: Chesterfield County, Goochland County, Louisa County, Fluvanna County, Orange County, Powhatan County, Albemarle County, Henrico County, Hanover County, Midlothian, Mineral, Gordonsville, Keswick, Lake Monticello, Brandermill, Woodlake, Lake Anna, Hadensville, Ferncliff, Boyd Tavern, Shannon Hill, Gum Spring, Troy, Palmyra, Ashland, Mechanicsville, Oilville, Sandy Hook, Glen Allen, Short Pump, Maidens, Rockville, Manakin, Earlysville, Charlottesville, and Richmond.
At Virginia Professional Wildlife Removal Services we are constantly striving to advance our education so that we may serve you better.
If a dead animal is present in or near your Richmond or Charlottesville, Virginia home or business, call Virginia Professional Wildlife Removal Services, LLC for all of your dead animal removal needs. Our certified nuisance wildlife removal specialists and animal removal technicians in the Richmond and Charlottesville, VA area can remove any dead animals from your Richmond and Charlottesville, VA home or property. No matter how bad the situation, Virginia Professional Wildlife Removal Services in Richmond and Charlottesville, Virginia will resolve your animal related problems. If you need a technician from Virginia Professional Wildlife Removal Services in the Richmond or Charlottesville area to perform dead animal and odor removal services for you, please contact our company by calling (804) 457-2883.
Not only do our professional technicians trap and remove problem wild animals, we do a lot of other dirty work, too. Don't hesitate to call us for dead animal removal, bat guano cleanup, pigeon waste removal, mouse dropping cleanup, decontamination, repairs, above ground and below ground rodent slick fencing, odor control for skunk spray, and the like. We are a full service animal removal and control company with a wide range of wildlife control solutions.
Most of our work in Richmond and Charlottesville Virginia is guaranteed for up to a year against animal reentry. We also provide dead animal removal, dead deer removal, bird control, bird cleanup, nest removal and many other services that make us one of the most complete wildlife removal companies in the Richmond and Charlottesville areas of Virginia.
Virginia Professional Wildlife Removal is one of only a few companies that have a nuisance wildlife removal permit from the State of Virginia and we are FULLY INSURED. We are also a proud member of the National Wildlife Control Officers Association.
Don't let the wildlife of Central Virginia take over your home. Give Virginia Professional Wildlife Removal a call today and rid your home of all nuisance and problem animals.
Virginia Professional Wildlife Removal Services, LLC has the knowledge and experience to resolve your nuisance animal problem quickly and humanely. Call us today at (804) 457-2883.
ALSO SEE
Dead Animal Removal Process
While pests are annoying enough when they're alive, they can cause plenty of havoc once dead as well. Their dead bodies will start stinking up your home and will attract a load of other pests as well. That's not even mentioning all the diseases they could cause. For these reasons, it's essential to always remove a dead animal as soon as possible, as it prevents plenty of headaches down the road.
Finding the Dead Animal
The first step to getting rid of the dead animal is to find it. This is much trickier than you might initially expect. Not only do pests like sticking to the walls and staying in hiding when alive, but most animals will naturally decide to go into an even smaller and more secluded area once they know their time has come to an end. That's why we'll be looking at some different methods you can use to find the dead animal.
1. Searching the Common Spots
As mentioned earlier, animals will go into a secluded area when they realize they're about to die. Whether for good or bad, there are only a small number of spots in your home that fit the bill. That's why it's always a good idea to give those a look when trying to spot a dead animal. These spots include inside your walls, your crawl space, the attic, the basement, and even your chimney. They're all nice, quiet, and dark. Unfortunately, that also means they can be tough to search through.
2. Using Your Sense of Smell
It goes without saying that any dead organism will slowly start to smell. Once an animal is gone there's nothing keeping their body's organs from doing their jobs. That coupled with the fact that there's nothing maintaining the state of the body anymore results in the corpse slowly rotting, which gives off an awful smell. That's why you can use your nose to follow the scent until you arrive upon the body. Just be warned that it takes some time for the body to start rotting, meaning you won't be able to find the corpse for quite a while.
3. Look Out for Stains
Once a living thing dies, it'll naturally let go of itself. That means all the water and food inside the body will be released as feces and urine soon after death. While this is disgusting, it can also be used to help locate the body. Depending on where the animal died, it's waste will stain the surfaces around it. Your walls or floorboards will also absorb some of it and will turn to an orange or brownish color. That's why you can find out where an animal died if a new stain appears in your home.
4. Follow the Bugs
It shouldn't come as a surprise that insects, particularly flies, are attracted to dead bodies because they're massive mounds of food for these small critters. You can use these animal's natural survival instincts to your advantage to find the dead animal. All you have to do is see where there's a large gathering of insects, and search that area closely.
Dead Animal Disposal
Once you've found the body, you can relax since the hardest part of the job is done. Unfortunately, you must now remove the body, which is the most disgusting part. How filthy it is depends on how long it takes you to find the body.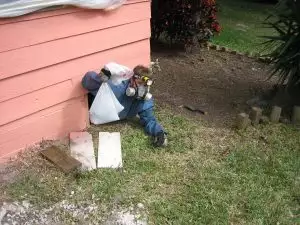 If you find the dead animal within a handful of hours of it dying, then you've gotten lucky and can dispose of it with ease. If it takes you half a day, you can expect it to be much filthier and contaminated with the animal's waste. If it takes you a few days, however, you'll now have to deal with both the dead animal and the insects infesting the area. Any longer than that, and you'll have to deal with a decomposing corpse.
No matter what you do, however, make sure you're wearing gloves when handling the body. Then gently pick it up and wrap it in one or two layers of plastic bags, before properly disposing of the body.
Cleaning
Once the dead animal is gone, you're going to have to clean the area to keep your home sanitary and keep yourself safe from diseases. First make sure any insects in the area are dead. Then use disinfectant or a mixture of bleach and water to soak the area for upwards of five minutes before using a rag or mop to wipe the area clean. With that, the dead animal will have successfully been removed.
Professional Help
Of course, getting all that done is both disgusting and a headache, so it's best to just call a professional to help remove the dead animal for you. Not only will you be spared the trouble, but these experts will even be prepared to remove the body from hard to reach places, like the insides of walls. That's why calling a professional is always a great idea.
Our Service Areas in Virginia
We provide dead animal removal services throughout Virginia including the following counties, cities and towns:  Afton, Albemarle County, Alexandria, Amelia County, Annandale, Arlington, Ashburn, Ashland, Barboursville, Bellwood, Belmont, Bensley, Bermuda Hundred, Bon Air, Boyd Tavern, Brandermill, Bumpass, Burke, Central VA, Centreville, Chamberlain, Charlottesville, Chesapeake, Chester, Chesterfield County, Colonial Heights, Crozet, Cuckoo, CVille, Dale City, Doswell, Dumbarton, Earlysville, East Highland Park, Enon, Ettrick, Fairfax, Fair Oaks, Ferncliff, Fluvanna County, Fredericksburg, Genito, Glen Allen, Glenora, Goochland County, Gordonsville, Gum Spring, Hadensville, Hampton, Hampton Park, Hanover County, Harrisonburg, Harrogate, Hening, Henrico County, Highland Springs, Hopewell, Innsbrook, Jefferson Davis, Kents Store, Keswick, Lake Anna, Lake Monticello, Lake Ridge, Lakeside, Laurel, Leesburg, Lewiston, Lignum, Locust Grove, Louisa County, Maidens, Manakin, Manakin-Sabot, Manassas, Manchester, McLean, Montrose, Motoaca, Meadowbrook, Mechanicsville, Midlothian, Mineral, Moseley, Newport News, Norfolk, North Courthouse, Northern Virginia, North Garden, NoVA, Oilville, Orange County, Palmyra, Pantops, Petersburg, Portsmouth, Powhatan County, Reams, Reston, Richmond, Richmond County, Robious, Rockville, Rockwood, RVA, Salisbury, Sandston, Sandy Hook, Scottsville, Shannon Hill, Short Pump, South Rockwood, Spring Run, Staunton, Stoney Point, Suffolk, Tidewater, Troy, Tuckahoe, Va, Varina, Virginia, Virginia Beach, Waynesboro, Williamsburg, Winchester, Winterpock, Woodlake, Wyndham, and the surrounding areas of Virginia.
Please Complete Our Simple Contact Form Below:
VPWRS Can Solve Your Problems!
Scratching Noises In Your Attic, Walls, Or Crawlspace?
Unwanted Animal Wildlife In Your Home, Business or Property?
Bats In Your Attic?
Birds In Your Dryer And Bathroom Vents?
Problem Bird Or Bat Infestation?
Animals In Your Chimney Or Fireplace?
Digging In Your Lawn Or Under Your House, Deck Or Garage?
Dead Animal Problems?
Animal Odor Problems?
Chewing Sounds In Your Attic Or Crawl Space?
Animals Damaging Your Wiring, Insulation, Fascia, Soffits, And The Wood In Your Home?
Animal Feces Removal?
Attic Restorations And Clean-Up Needed?
VPWRS Extensive Services
Virginia Professional Wildlife Removal Services provides nuisance wildlife removal, animal control, predator control, pest control, nuisance wildlife exclusion, and wildlife clean-up services.
We have experience handling bats, beavers, birds, Canada geese, chipmunks, coyotes, deer, foxes, groundhogs, mice, moles, raccoons, rats, opossums, otters, skunks, squirrels, snakes, voles, muskrats, bobcats, Copperhead snakes, pigeons, and other species of Virginia wildlife.
We operate our business within accepted industry standards and best practices, and in accordance with local, state, and federal laws.
CONTACT INFO ABOUT OUR BLOG
DIRECT MESSAGE US ABOUT OUR BLOG