Goose Control Services In Virginia
A full-service animal wildlife trapping, removal and pest control company – Licensed and Insured!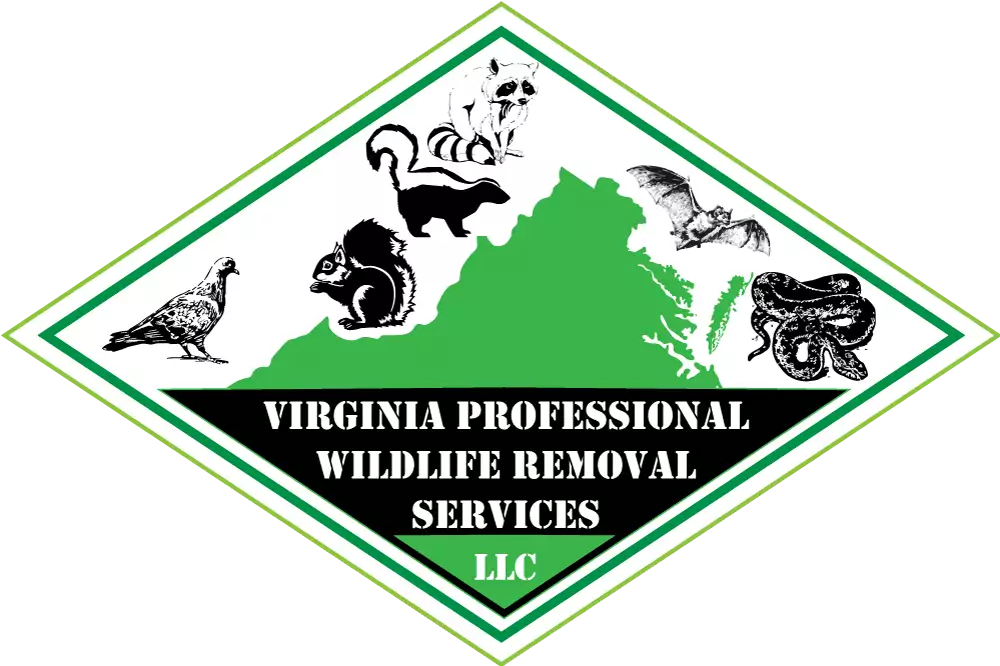 Virginia Professional Wildlife Removal Services, LLC., Providing Both Residential & Commercial Goose Control & Management Services
Licensed, Insured, & Experienced. Serving All Of Virginia.
Goose Control In Virginia
Goose control services are provided throughout most of Virginia including Henrico, Glen Allen, Richmond, Midlothian and Charlottesville Virginia by our local goose control and management experts. Canada geese are protected by the United States Migratory Bird Treaty Act. Because of this, goose control work requires someone with the knowledge to safely and humanely solve your goose problem while navigating complex federal, state and local laws in Virginia.
Goose Management
Goose management in Central Virginia can be accomplished in several different ways. Often times, it requires a multi faceted approach. Some of the techniques we use for goose management include goose egg addling, roundups, the use of lasers as an harassment technique, and using repellants to keep geese from damaging grass, turf and lawns.
How To Get Rid Of Geese
Canada Geese are admired for their distinctive appearance and the V-formation flights that mark the arrival and departure of seasons. However, they can also become a nuisance when they decide to make their home on your property. They can be aggressive, damage lawns, and produce significant amounts of waste. Here are some humane ways to deter Canada Geese from settling on your property.
Understand the Legal Aspects
Before taking any action, understand that Canada Geese are protected by laws in both the United States and Canada. In the U.S., they are protected under the Migratory Bird Treaty Act. It's illegal to harm or kill these birds, or to move their nests and eggs without a permit. Make sure to consult local and federal regulations before taking any action.
Change the Habitat
Eliminate Food Sources: Canada Geese are attracted to easily accessible food. Keep your garbage secure and don't feed the geese.
Modify the Landscape: Geese prefer wide open spaces near water. Planting shrubs, tall grasses, or even installing structures like fences or rocks can make the area less appealing to them.
Use Bird Netting: Covering potential nesting areas or water features with bird netting can prevent geese from settling in.
Scare Tactics
Use Decoys: Birds of prey like hawk or coyote decoys can be used to deter geese.
Flags and Mylar Balloons: Fluttering objects can sometimes scare off geese. Make sure to move them around so the geese don't get used to them.
Noise Devices: Propane cannons, whistles, or even playing distress calls can be effective, but make sure this doesn't disturb your neighbors or other local wildlife.
Use Repellents
Non-toxic Chemical Repellents: These can deter geese but usually need to be reapplied regularly.
Grape Concentrate: A more natural option, grape concentrate can be sprayed on the lawn to make it less appealing to geese.
Professional Assistance
Consult a Wildlife Expert: If the problem persists, it may be helpful to consult a wildlife control service that has experience with geese.
Relocation: As a last resort and with the proper permits, some professionals can relocate the geese to a more appropriate habitat.
Prevention
Regular Monitoring: Keep an eye on your property, especially during the nesting season between March and June.
Community Awareness: Educate your community on the importance of not feeding the geese and encouraging natural predators.
By understanding the habits of Canada Geese and taking measured, humane steps to make your property less appealing to them, you can successfully manage these birds and coexist peacefully. Always remember to consult the local wildlife agency for guidelines and permits before taking any drastic measures.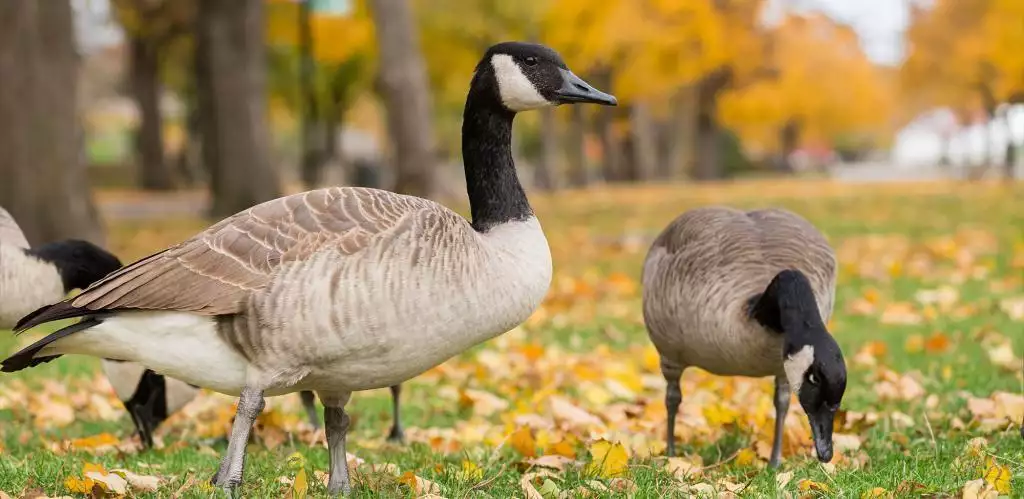 Goose Control Work In Central Virginia. We Perform Goose Control In Henrico, Glen Allen, Richmond, Midlothian And Charlottesville.
Getting rid of Canada geese can be challenging. Particularly if the flock has been allowed to stay in the area and grow in numbers. With each hatching of baby geese the goose population along with the problems associated with geese gets worse. Problems associated with geese include attacking people and pets, algae bloom in ponds and lakes caused by increased nitrogen levels from goose feces, and diseases from goose droppings. The feces is also unsightly and can create a slip hazard.
The time of year will affect how we get rid of geese and will often require many different approaches to be successful.  We do not use dogs to harass the geese because we find this approach to be very expensive and the goose problem usually returns requiring dogs to be used once again. While many people have tried using animal effigies, they are usually quickly discouraged when they find that geese aren't dumb and can certainly tell the difference in a real coyote and a cardboard cut-out.
At Virginia Professional Wildlife Removal Services we are constantly striving to advance our education so that we may serve you better.
Do Goose Repellants Work?
Commercial grade goose repellants are very effective when used at the proper time of year, at proper intervals, and as part of a goose repellant cocktail mixture. Most of the repellants purchased on the internet or at local big box stores by homeowners don't work. You should contact our goose control professional who has the knowledge and training necessary to solve your goose problem.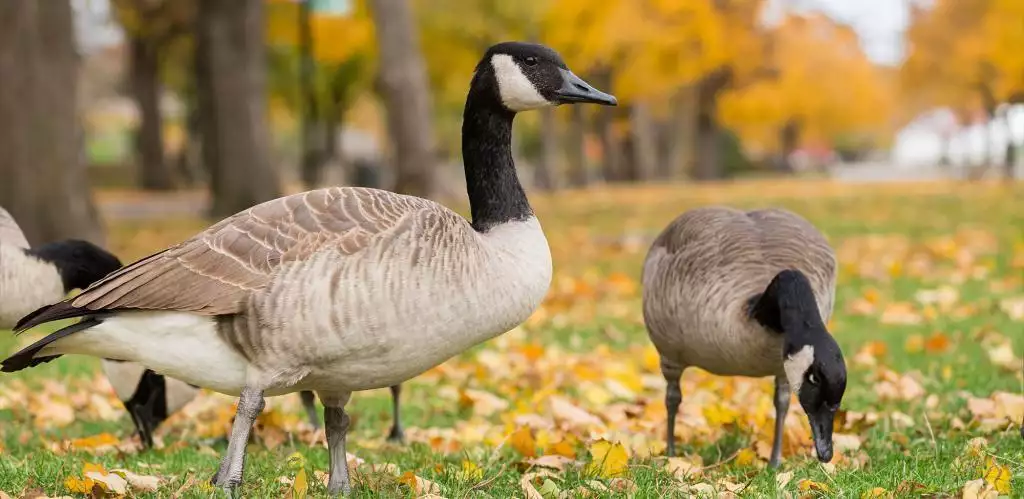 We Have Helped Many Homeowners And Home Owner Associations (HOA) In The Henrico, Glen Allen, Richmond, Midlothian And Charlottesviile Areas With Their Goose Problem.
Goose Control Service Areas in Virginia
We provide Canada geese control services throughout the Virginia area including Henrico, Glen Allen, Mechanicsville, Midlothian, Richmond, and Charlottesville. Call us today and we'll gladly help you solve your goose infestation. 
Our services also include wildlife removal, wildlife control, animal removal, animal control, animal trapping and pest control services throughout Virginia including the following counties, cities and towns: Afton, Albemarle County, Alexandria, Amelia County, Annandale, Arlington, Ashburn, Ashland, Barboursville, Bellwood, Belmont, Bensley, Bermuda Hundred, Bon Air, Boyd Tavern, Brandermill, Bumpass, Burke, Central VA, Centreville, Chamberlain, Charlottesville, Chesapeake, Chester, Chesterfield County, Colonial Heights, Crozet, Cuckoo, CVille, Dale City, Doswell, Dumbarton, Earlysville, East Highland Park, Enon, Ettrick, Fairfax, Fair Oaks, Ferncliff, Fluvanna County, Fredericksburg, Genito, Glen Allen, Glenora, Goochland County, Gordonsville, Gum Spring, Hadensville, Hampton, Hampton Park, Hanover County, Harrisonburg, Harrogate, Hening, Henrico County, Highland Springs, Hopewell, Innsbrook, Jefferson Davis, Kents Store, Keswick, Lake Anna, Lake Monticello, Lake Ridge, Lakeside, Laurel, Leesburg, Lewiston, Lignum, Locust Grove, Louisa County, Maidens, Manakin, Manakin-Sabot, Manassas, Manchester, McLean, Montrose, Motoaca, Meadowbrook, Mechanicsville, Midlothian, Mineral, Moseley, Newport News, Norfolk, North Courthouse, Northern Virginia, North Garden, NoVA, Oilville, Orange County, Palmyra, Pantops, Petersburg, Portsmouth, Powhatan County, Reams, Reston, Richmond, Richmond County, Robious, Rockville, Rockwood, RVA, Salisbury, Sandston, Sandy Hook, Scottsville, Shannon Hill, Short Pump, South Rockwood, Spring Run, Staunton, Stoney Point, Suffolk, Tidewater, Troy, Tuckahoe, Va, Varina, Virginia, Virginia Beach, Waynesboro, Williamsburg, Winchester, Winterpock, Woodlake, Wyndham, and the surrounding areas of Virginia.
Are you having problems with some other species of birds? We provide bird removal and control services for European starlings, pigeons, sparrows, woodpeckers too.
Please Complete Our Simple Contact Form Below:
VPWRS Can Solve Your Geese Problems!
Canada Geese Pooping Everywhere?
Geese Attacking Children Or Pets?
Are Geese Biting You?
Are Geese Making A Nest Around Your Home?
Are Geese Taking Over Your Pond Or Lake?
Are Geese Damaging Your Golf Course?
Is Your Pond Or Lake Turning Green With Green Slime?
Is Your Pond Or Lake Experiencing Algae Bloom From Rising Nitrogen Levels?
Are There Baby Geese Or Eggs On Your Property?
Is Goose Feces Creating A Slip Fall Hazard?
Need A Local Goose Control Professional To Apply A Goose Repellant?
Is Your Property Being Taken Over By Canada Geese?
Need A Goose Management Company To Do A Goose Roundup?
VPWRS Extensive Services
Virginia Professional Wildlife Removal Services provides nuisance wildlife removal, animal control, predator control, pest control, nuisance wildlife exclusion, and wildlife clean-up services.
We have experience handling bats, beavers, birds, Canada geese, chipmunks, coyotes, deer, foxes, groundhogs, mice, moles, raccoons, rats, opossums, otters, skunks, squirrels, snakes, voles, muskrats, bobcats, Copperhead snakes, pigeons, and other species of Virginia wildlife.
We operate our business within accepted industry standards and best practices, and in accordance with local, state, and federal laws.
CONTACT INFO ABOUT OUR BLOG
DIRECT MESSAGE US ABOUT OUR BLOG