Virginia Bat Facts
A full-service animal wildlife trapping, removal and pest control company - Licensed and Insured!
SERVICES PROVIDED BY VIRGINIA PROFESSIONAL WILDLIFE REMOVAL SERVICES, LLC.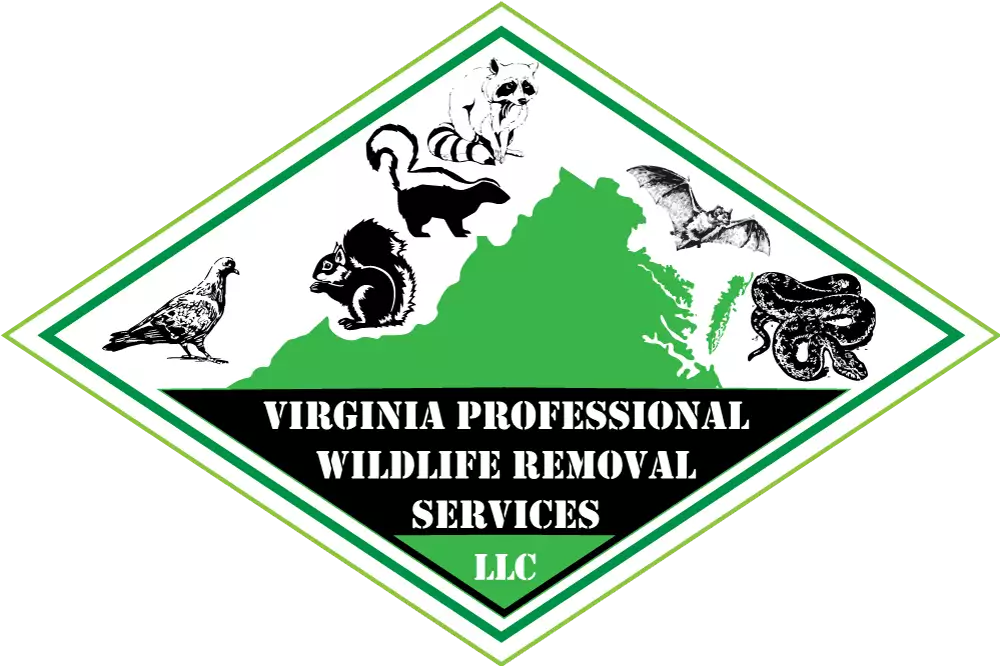 Virginia Bat Facts
A full-service animal wildlife trapping, removal and pest control company - Licensed and Insured!
SERVICES PROVIDED BY VIRGINIA PROFESSIONAL WILDLIFE REMOVAL SERVICES, LLC.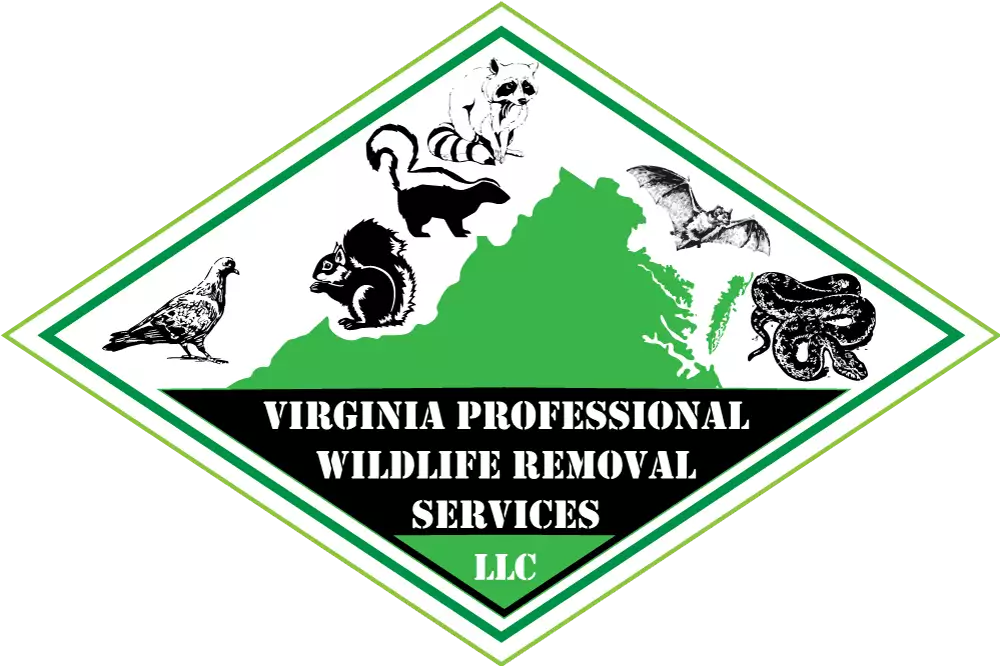 Virginia Professional Wildlife Removal Services, LLC. | Licensed & Insured
Providing Both Residential & Commercial Bat Services For Those Difficult Jobs
Facts on Virginia Bat Species
Virginia Bat Facts. Bats are closely related to primates and are all in the group Chiroptera, Latin for "hand wing", which means that their wings are essentially flaps of skin connecting their long fragile fingers together. Residential and commercial properties are equally desirable for bats to live in. A bat needs a space no more than an inch wide and a 1/3 of an inch tall to gain access in to a dwelling. Most bats will colonize in the gable vents, behind shutters, under siding, behind the trim boards, and sometimes in an old chimney. Bats are social creatures and live in colonies that can range from hundreds to thousands. Shortly before sunset most of the bats will emerge from the dwelling to seek out food and water throughout the night time hours. (Never assume that all the bats are out at once.) Even though they have poor eyesight, they navigate and find their food using echolocation. Their diet consists of insects, which plays an important role in the ecosystem keeping most insect pests to desirable levels for humans.
Bats are the only mammal that can truly fly.
Virginia has 17 of the more than 1,000 bat species worldwide.
Three of the bat species in Virginia are federal endangered species (Gray Bat, Indiana Bat, and Virginia Big-eared Bat); the Rafinesque's Big-eared Bat, also known as the Eastern Big-eared Bat, is a state threatened and endangered species. The bat species most likely to be found in Virginia homes include the Big Brown Bat, Little Brown Bat, Evening Bat & Mexican Free-Tailed Bat.
The bats in Virginia are divided into two categories: cave bats and tree bats. Cave bats hibernate in caves, while tree bats hibernate in leaf clusters, under decaying logs, in hollow trees, or sometimes in abandoned mines or old buildings.
Virginia's cave bats include:
Gray Bat
Small-footed Bat
Little Brown Bat
Northern Long-eared Bat
Indiana Bat
Eastern Pipistrelle Bat
Big Brown Bat
Virginia Big-eared Bat
Virginia's tree bats include:
Southeastern Bat
Silver-haired Bat
Eastern Red Bat
Hoary Bat
Northern Yellow Bat
Seminole Bat
Evening Bat
Rafinesque's Big-eared Bat
There has also been an occurrence of the Brazilian Free-tailed bat in southeastern Virginia.
The Big Brown Bat and the Little Brown Bat are the species more likely observed by Virginians.
The Virginia Big-eared Bat is the state bat of the Commonwealth.
Cave bats generally give birth to only one "pup" per year, and tree bats generally give birth to two or more "pups" per year.
Bats in Virginia eat insects, and they are valuable in controlling mosquito populations. Some bats can consume up to 3,000 insects in one night.
Bats are true hibernators that undergo physiological and metabolic shutdown during the winter. A hibernating bat's heartbeat drops from 400 beats per minute to 25 beats per minute.
Bats may hibernate for as long as 83 days, slowly metabolizing the body fat stored during the fall. Studies have shown that each time a little brown bat is disturbed during hibernation it expends the fat reserves necessary to hibernate 67 days.
Bat hibernation caves are known as hibernacula.
Another remarkable quality found in bats is their ability to emit high frequency sounds, or ultrasound, similar to sonar, to detect and to catch insect prey, to avoid obstacles, and to communicate.
Bats in Virginia are nocturnal.
Bats generally mate in the fall and winter but the females' bodies delay fertilization until spring.
Births typically occur from May through July. Young bats can fly at three weeks and weaning typically occurs in July and August.
Bats can live more than 10 years and some species can live up to 30 years.
Owls, hawks, raccoons, skunks and other animals prey on bats. Bats, like any mammals, can carry rabies, but more rabies cases in Virginia are attributed to raccoons, foxes, and feral cats.
Damage and Damage Identification
Bats often fly about swimming pools, from which they drink or catch insects. White light (with an ultraviolet component), commonly used for porch lights, building illumination, street and parking-lot lights, may attract flying insects, which in turn attract bats. Unfortunately, the mere presence of a bat outdoors is sometimes beyond the tolerance of some uninformed people. Information is a good remedy for such situations.
Bats commonly enter buildings through openings associated with the roof edge and valleys, eaves, apex of the gable, chimney, attic or roof vent, dormers, and siding. Other openings may be found under loosefitting doors, around windows, gaps around various conduits (wiring, plumbing, air conditioning) that pass through walls, and through utility vents.
Bats are able to squeeze through narrow slits and cracks. For purposes of bat management, one should pay attention to any gap of approximately 1/4 x 1 1/2 inches (0.6 x 3.8 cm) or a hole 5/8 x 7/8 inch (1.6 x 2.2 cm). Such openings must be considered potential entries for at least the smaller species, such as the little brown bat. The smaller species require an opening no wider than 3/8 inch (0.95 cm), that is, a hole the diameter of a US 10-cent coin (Greenhall 1982). Openings of these dimensions are not uncommon in older wood frame structures where boards have shrunk, warped, or otherwise become loosened.
The discovery of one or two bats in a house is a frequent problem. In the Northeast, big brown bats probably account for most sudden appearances. Common in urban areas, they often enter homes through open windows or unscreened fireplaces. If unused chimneys are selected for summer roosts, bats may fall or crawl through the open damper into the house. Sometimes bats may appear in a room, then disappear by crawling under a door to another room, hallway, or closet. They may also disappear behind curtains, wall hangings, bookcases, under beds, into waste baskets, and so forth. Locating and removing individual bats from living quarters can be laborious but is important. If all else fails, wait until dusk when the bat may appear once again as it attempts to find an exit. Since big brown bats may hibernate in the cooler recesses of heated buildings, they may suddenly appear (flying indoors or outdoors) in midwinter during a warm spell or a cold snap as they move about to adjust to the temperature shift. (Source: Prevention and Control of Wildlife Damage — 1994)
Health Concerns
Rabies – Bats are distinct from most vertebrate pests that inhabit human dwellings because of the potential for transmitting rabies — a viral infection of mammals that is usually transmitted via the bite of an infected animal. Rabies does not respond to antibiotic therapy and is nearly always fatal once symptoms occur. However, because of the long incubation period (from 2 weeks to many months), prompt vaccination following exposure can prevent the disease in humans. Dogs, cats, and livestock also can be protected by periodic vaccinations.
Bats are not asymptomatic carriers of rabies. After an incubation period of 2 weeks to 6 months, they become ill with the disease for as long as 10 days. During this latter period, a rabid bat's behavior is generally not normal—it may be found active during the daytime or on the ground incapable of flying. Most human exposures are the result of accidental or careless handling of grounded bats. Even less frequently, bats in this stage of illness may be involved in unprovoked attacks on people or pets (Brass, pers. commun.; Trimarchi et al. 1979). It is during this stage that the rabid bat is capable of transmitting the disease by biting another mammal. As the disease progresses the bat becomes increasingly paralyzed and dies as a result of the infection. The virus in the carcass is reported to remain infectious until decomposition is well advanced.
Rabies is the most important public health hazard associated with bats. Infection with rabies has been confirmed in all 40 North American species of bats that have been adequately sampled in all of the contiguous United States and in most provinces of Canada.
Bats rank third (behind raccoons and skunks) in incidence of wildlife rabies in the United States (Krebs et al. 1992). In the last 20 years, however, there have been more human rabies cases of bat origin in the United States than of any other wildlife group. Furthermore, the disease in bats is more widely distributed (in all 48 contiguous states in 1989) than in any other species. In Canada, bats also rank third (behind foxes and skunks) in the incidence of wildlife rabies. Therefore, every bat bite or contact must be considered a potential exposure to rabies. While aerosol transmission of the rabies virus from bats in caves to humans and some other mammals has been reported, this is not a likely route of infection for humans entering bat roosts in buildings in temperate North America.
Histoplasmosis – Histoplasmosis is a very common lung disease of worldwide distribution caused by a microscopic fungus, Histoplasma capsulatum. Histoplasma exists in nature as a saprophytic mold that grows in soil with high nitrogen content, generally associated with the guano and debris of birds (particularly starlings, Sturnus vulgaris, and chickens) and bats. Wind is probably the main agent of dispersal, but the fungus can survive and be transmitted from one site to another in the intestinal contents of bats, and also in the dermal appendages of both bats and birds. The disease can be acquired by the casual inhalation of windblown spores, but infections are more likely to result from visits to point sources of growth of the fungus. Relative to bats, such sources include bat roosts in caves, barns, attics, and belfries, and soil enriched with bat guano.
Numerous wild and domestic animals are susceptible to histoplasmosis, but bats (and perhaps the armadillo) are the only important animal vectors. Unlike bats, birds do not appear to become infected with the fungus. Both the presence of guano and particular environmental conditions are necessary for H. capsulatum to proliferate. In avian habitats, the organism apparently grows best where the guano is in large deposits, rotting and mixed with soil rather than in nests or in fresh deposits. Specific requirements regarding bats have not been described, though bat roosts with long-term infestation are often mentioned in the literature.
While histoplasmosis in the United States is particularly endemic to the Ohio-Mississippi Valley region (which is also an area with the greatest starling concentration) and areas along the Appalachian Mountains, it is also found in the lake and river valleys of other states. Outside areas with "appropriate" environmental conditions, there also occur scattered foci with high infection rates usually associated with caves inhabited by bats or birds.
When soil or guano containing H. capsulatum is physically disturbed, the spores become airborne. Persons at particular risk of histoplasmosis of bat origin include spelunkers, bat biologists, pest control technicians, people who clean out or work in areas where bats have habitually roosted, and people in contact with guanoenriched soil — such as around the foundation of a building where guano has sifted down through the walls.
Infection occurs upon inhalation of spores and can result in a variety of clinical manifestations; severity partially depends on the quantity of spores inhaled. The infection may remain localized in the lungs where it may resolve uneventfully; this is the case for about 95% of the 500,000 infections occurring annually in the United States. Such infections are identified only by the presence of a positive histoplasmin skin test and/or calcified lesions on routine radiographs. Other individuals may have chronic or progressive lung disease requiring treatment. Less severe forms of these infections may be accompanied by fever, cough, and generalized symptoms similar to a prolonged influenza. Resolution of the disease confers a degree of immunity to reinfection. In addition, resolution confers varying degrees of hypersensitivity to H. capsulatum; as a consequence, massive reinfection in highly sensitized lungs may result in a fatal acute allergic reaction.
In a small percentage of chronic histoplasmosis cases, the fungus disseminates to involve multiple organ systems and may be fatal. This form is usually seen in young children (1 year or older) and in immunocompromised adults. In recent years, systemic infections have been increasing in frequency globally as an opportunistic infection of AIDS patients. (Source: Prevention and Control of Wildlife Damage — 1994)
Our Service Areas in Virginia
We provide wildlife removal, wildlife control, animal removal, animal control, animal trapping and pest control services throughout Virginia including the following counties, cities and towns: Afton, Albemarle County, Alexandria, Amelia County, Annandale, Arlington, Ashburn, Ashland, Barboursville, Bellwood, Belmont, Bensley, Bermuda Hundred, Bon Air, Boyd Tavern, Brandermill, Bumpass, Burke, Central VA, Centreville, Chamberlain, Charlottesville, Chesapeake, Chester, Chesterfield County, Colonial Heights, Crozet, Cuckoo, CVille, Dale City, Doswell, Dumbarton, Earlysville, East Highland Park, Enon, Ettrick, Fairfax, Fair Oaks, Ferncliff, Fluvanna County, Fredericksburg, Genito, Glen Allen, Glenora, Goochland County, Gordonsville, Gum Spring, Hadensville, Hampton, Hampton Park, Hanover County, Harrisonburg, Harrogate, Hening, Henrico County, Highland Springs, Hopewell, Innsbrook, Jefferson Davis, Kents Store, Keswick, Lake Anna, Lake Monticello, Lake Ridge, Lakeside, Laurel, Leesburg, Lewiston, Lignum, Locust Grove, Louisa County, Maidens, Manakin, Manakin-Sabot, Manassas, Manchester, McLean, Montrose, Motoaca, Meadowbrook, Mechanicsville, Midlothian, Mineral, Moseley, Newport News, Norfolk, North Courthouse, Northern Virginia, North Garden, NoVA, Oilville, Orange County, Palmyra, Pantops, Petersburg, Portsmouth, Powhatan County, Reams, Reston, Richmond, Richmond County, Robious, Rockville, Rockwood, RVA, Salisbury, Sandston, Sandy Hook, Scottsville, Shannon Hill, Short Pump, South Rockwood, Spring Run, Staunton, Stoney Point, Suffolk, Tidewater, Troy, Tuckahoe, Va, Varina, Virginia, Virginia Beach, Waynesboro, Williamsburg, Winchester, Winterpock, Woodlake, Wyndham, and the surrounding areas of Virginia.
Contact Us Today – Please Complete Our Simple Contact Form Below:
If you have questions on bats and their behavior or our bat removal services throughout Virginia contact us at (804) 457-2883 or visit our Bats Page.
VPWRS Can Solve Your Problems!
Scratching Noises In Your Attic, Walls, Or Crawlspace?
Unwanted Animal Wildlife In Your Home, Business or Property?
Bats In Your Attic?
Birds In Your Dryer And Bathroom Vents?
Problem Bird Or Bat Infestation?
Animals In Your Chimney Or Fireplace?
Digging In Your Lawn Or Under Your House, Deck Or Garage?
Dead Animal Problems?
Animal Odor Problems?
Chewing Sounds In Your Attic Or Crawl Space?
Animals Damaging Your Wiring, Insulation, Fascia, Soffits, And The Wood In Your Home?
Animal Feces Removal?
Attic Restorations And Clean-Up Needed?
VPWRS Extensive Services
Virginia Professional Wildlife Removal Services provides nuisance wildlife removal, animal control, predator control, pest control, nuisance wildlife exclusion, and wildlife clean-up services.
We have experience handling bats, beavers, birds, Canada geese, chipmunks, coyotes, deer, foxes, groundhogs, mice, moles, raccoons, rats, opossums, otters, skunks, squirrels, snakes, voles, muskrats, bobcats, Copperhead snakes, pigeons, and other species of Virginia wildlife.
We operate our business within accepted industry standards and best practices, and in accordance with local, state, and federal laws.
Tel: (804) 457-2883 or Toll-Free at (877) 828-3878