Bird Removal Services in Richmond VA – (804) 457-2883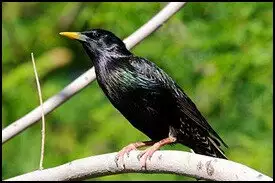 Are pesky birds causing disturbances around your property in Richmond, VA? Look no further for a comprehensive and effective solution. Our professional bird removal services are tailored to address your avian-related concerns while ensuring the well-being of these feathered creatures. With a deep understanding of local bird species and ethical removal methods, we are your trusted partners in creating a harmonious environment for both humans and birds.
Our Services:
Humane Bird Removal: We prioritize the well-being of birds while addressing your concerns. Our team employs humane and ethical methods to remove birds from your property. We understand the ecological importance of these creatures and strive to minimize any potential harm during the removal process.
Customized Solutions: Every property and bird situation is unique. Our experts assess your specific requirements and tailor removal strategies accordingly. This personalized approach ensures the most effective and efficient results, while also considering the local bird population and habitat.
Expert Technicians: Our team consists of skilled technicians with extensive knowledge of bird behaviors and habitats. This expertise enables us to devise strategies that not only remove birds from your property but also deter them from returning in the future.
Safe Cleanup and Prevention: Bird presence often leads to unsightly messes. We not only remove the birds but also provide thorough cleanup services to ensure your property is hygienic and aesthetically pleasing. Moreover, we implement preventive measures to discourage future bird nesting and roosting.
Consultation and Education: We believe in empowering property owners with knowledge about the local bird species and their behaviors. Our experts offer consultation services to educate you on ways to make your property less appealing to birds, helping you maintain a bird-free environment in the long term.
Why Choose Us:
Local Experts: Our team understands the unique bird species in Richmond, VA, and is well-versed in the local regulations related to bird removal and conservation.
Ethical Practices: We prioritize ethical and humane bird removal methods, ensuring that birds are treated with respect and care throughout the process.
Effective Solutions: Our customized approach guarantees effective results tailored to your property's specific bird-related issues.
Comprehensive Services: From removal to cleanup and prevention, we provide a holistic solution to tackle your bird-related concerns.
Customer Satisfaction: Our track record speaks for itself. We are committed to delivering exceptional customer satisfaction through our professionalism and dedication.
Our Bird Removal Service Areas in Virginia
We provide bird removal & bird control services throughout Virginia including the following counties, cities and towns:  Afton, Albemarle County, Alexandria, Amelia County, Annandale, Arlington, Ashburn, Ashland, Barboursville, Bellwood, Belmont, Bensley, Bermuda Hundred, Bon Air, Boyd Tavern, Brandermill, Bumpass, Burke, Central VA, Centreville, Chamberlain, Charlottesville, Chesapeake, Chester, Chesterfield County, Colonial Heights, Crozet, Cuckoo, CVille, Dale City, Doswell, Dumbarton, Earlysville, East Highland Park, Enon, Ettrick, Fairfax, Fair Oaks, Ferncliff, Fluvanna County, Fredericksburg, Genito, Glen Allen, Glenora, Goochland County, Gordonsville, Gum Spring, Hadensville, Hampton, Hampton Park, Hanover County, Harrisonburg, Harrogate, Hening, Henrico County, Highland Springs, Hopewell, Innsbrook, Jefferson Davis, Kents Store, Keswick, Lake Anna, Lake Monticello, Lake Ridge, Lakeside, Laurel, Leesburg, Lewiston, Lignum, Locust Grove, Louisa County, Maidens, Manakin, Manakin-Sabot, Manassas, Manchester, McLean, Montrose, Motoaca, Meadowbrook, Mechanicsville, Midlothian, Mineral, Moseley, Newport News, Norfolk, North Courthouse, Northern Virginia, North Garden, NoVA, Oilville, Orange County, Palmyra, Pantops, Petersburg, Portsmouth, Powhatan County, Reams, Reston, Richmond, Richmond County, Robious, Rockville, Rockwood, RVA, Salisbury, Sandston, Sandy Hook, Scottsville, Shannon Hill, Short Pump, South Rockwood, Spring Run, Staunton, Stoney Point, Suffolk, Tidewater, Troy, Tuckahoe, Va, Varina, Virginia, Virginia Beach, Waynesboro, Williamsburg, Winchester, Winterpock, Woodlake, Wyndham, and the surrounding areas of Virginia.
Please Complete Our Simple Contact Form Below:
Don't let bothersome birds disrupt your peace any longer. Contact us today to schedule a consultation and let our experts take care of your bird removal needs in Richmond, VA. Experience a bird-free environment without compromising the well-being of these winged creatures. Contact us today at (804) 457-2883.